A touch of neo-realism in Giorgio Diritti's harrowing account of the Marzabotto and Monte Sole massacre of 1944 when entire village communities were killed by occupying German forces. Many "real life" non professional local people were used as actors in the film with most of the dialogue in the local bolognese dialect.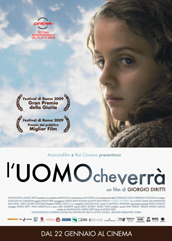 The events leading up to the Nazi murders in the mountain community near Bologna are seen through the eyes of 8 year old Martina (Greta Zuccheri Montanari) who ironically does not speak having become 'dumb' after a young baby brother died in her arms some years previously. Her mother Lena (Maya Sansa) becomes pregnant once more and Martina looks forward to the new baby as around her local rebel forces attempt to oust their invaders and win back their land and property.
Much local colour is given not only by the dialect (sub-titled in Italian) but also by the real-life settings in the desolate countryside (also filmed in Tuscany) just a short distance from the city of Bologna.
An estimated 770 men, women and children were killed in cold-blood by Nazi soldiers in the 'strage di Marzabotto' between 29th September and 5th October 1944.